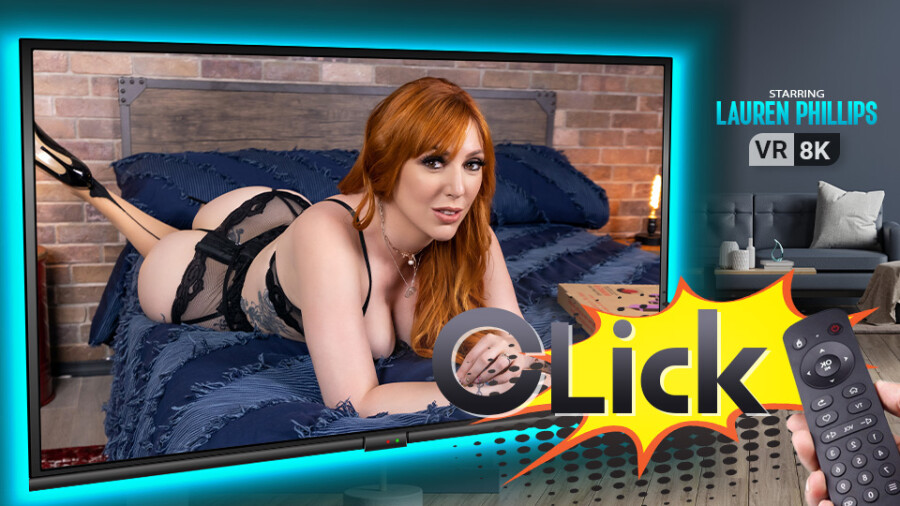 Lauren Phillips Headlines Fantasy 'Click' for VR Bangers
LOS ANGELES — Lauren Phillips headlines "Click" for VR Bangers, a POV fantasy that explores the erotic potential of a magical remote control.
The premise borrows from the Adam Sandler comedy of the same name. "You know, the movie with the remote that lets you do pretty much everything you want — including messing up with time? Yeah, and what if it was real?" asked a VR Bangers rep. "What if you could really control everything around you and mess up with it? And would you consider using this technology for your… sexual needs?"
As the scenario opens, the viewer is placed in the role of a husband, worn down by his wife's nagging and complaining, who discovers his brand-new remote includes "Sexy Outfit" and "Horny Mode" options, which are immediately explored.
"VR Bangers' unique remote gives fans and members a variety of uses — and I am sure that they will enjoy all of them and keep on messing with all the device's features," producer Ivan Harbakon said. "Inside our latest VR fantasy, we turn the impossible into reality — or, more precisely speaking, virtual reality — thanks to our latest technology. It is fun, sexy and truly surprising."
Find "Click" starring Lauren Phillips at VRBangers.com and follow the studio on Twitter.
In recent news, VR Bangers has released "One Night Stand" with Vina Sky, Coco Lovelock in "Give Me a Hand" and Brandi Love in "Beerfest," among other titles.